Of particular interest, are the sections on health effects further down near the bottom of this infographic. Specifically, "lack of sleep lowers testosterone levels an average of 10% – 15%." This makes sense, as human growth hormone (HGH) is primarily produced during sleep, with the largest and most predictable peak occurring about an hour after [...]
Continue Reading

→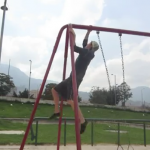 Logan has spent the past few weeks running around two massive South American cities with a video camera trying to capture the "essence" of urban movement. Read and watch his experiences, as he shows you how to live wild in the heart of an urban jungle.
Continue Reading

→
As this infographic by Altra asks, why consider footstrike? It's a very good question, and it should be the primary query on people's minds when they're thinking about going minimalist (footwear) or even barefoot. The way your feet impact the ground while running has far-reaching effects on your bones and joints all the way [...]
Continue Reading

→
This infographic comes courtesy of medicalbillingandcoding.org, and provides me with no small amount of amusement since it actually cited this blog and the Paleo Community Surveys which I've conducted.
Continue Reading

→
The 2012 Summer Olympics have come and gone, and while the besieged residents of London might breathe a collective sigh of relief, it is always a bit sad when the games reach their conclusion. This year saw some pretty amazing feats of athleticism, with Michael Phelps taking the individual medal count record to new heights, and Usain Bolt cementing his place as one of the greatest sprinters of all time.
The following infographics come from npr.org, and provide an interesting look into the types of bodies which excel at either end of the running spectrum, sprinting and marathons, and how athlete's figures have changed over time.
Continue Reading

→
This infographic on running comes from insurancequotes.org. It's a fairly interesting graphic (despite the atrocious heel landing of the illustrated runner) and has some neat info on marathon participation and demographic variances between men and women. For five consecutive years, the number of half-marathon finishers has increase by 10% or more. That's quite impressive, and indicates a persistently strong upswing in the popularity of running. I wonder how much of that can be attributed to books like "Born to Run"?
Continue Reading

→
We all start out in life as square pegs, built from the blueprint of our DNA, honed from a million years of evolution. The process of squeezing our little squares through the round hole of modern society begins almost immediately. Some of us adapt, for despite it all humans are incredibly resilient. Some of us don't, and suffer without ever really understanding why.
Continue Reading

→
Today's infographic on sleep is brought to you by medicalbillingandcodingcertification.net, and has a lot of interesting nuggets of knowledge about sleep and sleep habits. Of special interest to me was the section near the end about the "perfect time to nap". One thing's for sure, one rarely appreciates how wonderful a full night of sleep feels, until you start doing without it on a regular basis!
Continue Reading

→
I haven't done a book review in a while, and since there have been quite a few new ones lately I figured I should probably take a look at some of them and see how good they are. It was an easy decision to crack open Dean Dwyer's "Make Shift Happen" because I consider him a friend and colleague of sorts.
I've only spoken with Dean over Skype and exchanged emails about various projects, but he is the kind of person that befriending is difficult to avoid. It definitely has something to do with his great sense of humor and funny self-deprecating manner, but probably more than anything you can just tell from his writing and speech that he has a great passion for what he does. One can't help but root for him and follow along with what he's up to.
So, Dean wrote a book. And, it's really, really good. I'll try to elucidate succinctly why I believe it is so.
Continue Reading

→
Taste, texture, color, and freshness all play roles in the enjoyment of our food. These are the qualities that make eating a pursuit that goes well beyond simple nourishment. Our modern lifestyles have given rise to high food production, more mouths to feed, and a greater demand for shelf-life. This, in turn, has given rise to food additives, which give us exactly what we want out of our food, but at what cost?
Continue Reading

→
I think it is safe to say that modern society looks and feels nothing like what homo sapiens and their closest ancestors were accustomed to during the course of their evolution. A key element of the current status quo is that for the vast majority of people, their lives are defined by the boxes in which they live inside. Just stop and think about it for a minute – you're probably living in some sort of box, right now…
Continue Reading

→
In my previous article on extremes, I questioned the appropriateness of diets which lie on either end of the bell curve for macronutrient ratios and argued that for most people an optimal diet will exist somewhere closer to the middle of the distribution.
Continuing along that theme, I'm going to talk about another type of "extreme" mentality that I often see exhibited by people. No, not extreme sports and such like bungee jumping or drunken alligator wrestling, I'm talking about more mundane behaviors (like exercise or eating), a sort of mindset that takes on similar psychological elements of extremism.
You hear the words "balanced" and "moderation" a lot when involved with topics like diet, or fitness, but it seems to me that despite the emphasis placed on those concepts, in practice these ideals are rarely achieved or even desired. I find this curious. Why do some people tend to gravitate to the extreme ends of the spectrum and what is the psychological motivation that drives them outside of the middle of the bell curve?
Continue Reading

→
Eat Well, For Less

Over 40 pages of advice, dedicated to helping you save money on healthy food.